Chess World Cup 2016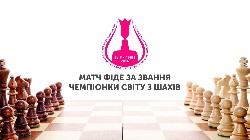 The title of Chess World Champion Maria Muzychuk won in the Women's Chess Championship in 2015. Hou Yifan after winning the 2013-2014 Grand Prix series, was eligible to compete in the World Championship.
Chess players had a meeting twice at the chessboard. For the first time in 2012 at the Gibraltar Tournament and for the second time at the 2015 Monaco Grand Prix. Both times there was a fierce fight, but Hou Yifan won.
According to the FIDE rating on February 1, 2016, Hou Yifan is ranked first (of the 2673) among women. Maria Muzychuk (2554) shares fourth place with Oleksandra Kosteniuk.
Link to the source: lviv2016.fide.com
Special thanks to Vitaliy Grabar for the wonderful photos.
Services provided by «Media Lviv» Company:
- provision of system for simultaneous translationduring the opening of the tournament at the The Solomiya Krushelnytska Lviv State Academic Theatre of Opera and Ballet.
- technical support of the press room during the competition (printers, laptops, sound system)
organization of rooms for broadcasting matches (installation of plasma and laptops for livestream)