City day of Volodymyr-Volynsk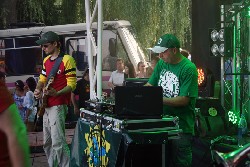 As part of the celebration of the City day of Volodymyr-Volynsk, began the XX International Youth Festival "Volodymyr 2013". Ice cream festival, a street dance festival, a presentation of robotics models, an exhibition of scientific and technical creativity groups gathered lovers of delicacies, music and entertainment, as well as extraordinary creative personalities. A performance was organized for children: clowns, giant dolls, sky kites, a competition of children's drawings on the asphalt was organized. the second day of the festival, July 27, ended with a dance competition, honoring the "golden" couples and the performance of the guests of the song contest. The last day of the Vladimir-2013 festival was especially busy. The last day of the Vladimir-2013 festival was especially eventful. On Sunday, July 28: exhibitions, book fair, fairy tale holiday, master class on beadwork. And at the end of the jubilee international festival the following special guests performed: Ulia Lord, band "Skryabin", "KOZAK SYSTEM", "FlyzZza", "Viskula".
Services provided by «Media Lviv» Company:
Every year our company provides live video broadcast of the main performances on the stage of the festival. Used for this reverse projection screens 3х4 meters, multimedia projector Mitsubishi LX5980 5500 Lm, professional video mixer(Effects/Switcher) Edirol V-4 4 Channel to apply effects and play sponsor videos.