7 EAST EUROPEAN CONGRESS OF DENTAL IMPLANTATION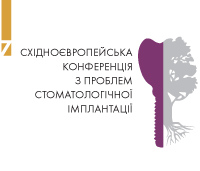 7 East European congress of dental implantation «Principles of evidence-based medicine in implantology» which brought together leading international and Ukrainian experts and became a worthy response to the formidable challenges of the times. More than 1000 leading dentists from Germany, Canada, Lithuania, Poland, Spain, Italy, Israel, Switzerland, France, Belarus, Ukraine and other countries attended this conference to share their experiences, listen to their colleagues and discuss in the hospitable spring Lviv. The scale of the event confirmed the venue - the Arena Lviv complex.
Content and information program of the conference included the work of four implantology symposiums; orthopedic dentists and dental technicians; dental hygienists and dental assistants;young scientists and doctors,Symposium "Features of rendering dental care and rehabilitation of patients with lesions of the maxillofacial zone in conditions of military action" was held for the first time in the framework of the conference. Due to the need for educational reforms, it became urgent to hold a pre-congress conference on "Education of periodontics and implantology in undergraduate and postgraduate education". The Chairman of the Conference Organizing Committee M. Ugrin (Ukraine) and the co-authors of the Scientific Committee Y. Zablotsky (Ukraine) and C. Malevez (Belgium) focused on the topic of evidence-based medicine.
Topical masterclasses from leading companies and experienced world and Ukrainian specialists of "Geistlich Biomaterials" (M. Beretta, Italy and M. Sanz, Spain, O. Shtuka, Ukraine), "BTI Human Technology" (U. Gambarella, Italy),"Implantiss Institute"(A. Simonpierry, France), "SisoMM.com"(I. Opanasok, A. Syuma, Ukraine)and otherhave become an excellent opportunity for the development of new practical skills.The specialized exhibition gave the companies-manufacturers, dental centers and publishers an exceptional opportunity to present their products, and the conference participants - to make the most effective use of breaks between scientific speach.
7 East European congress of dental implantation «Principles of evidence-based medicine in implantology» successfully completed and reaffirming the willingness of dentists to team up to solve pressing problems.The program of the conference reflected the results of recent research, scientific and practical achievements of leading world and Ukrainian experts. Participants, speakers and exhibitors were fascinated by the high level of organization, a great opportunity to spend time with friends and colleagues thanks to the wonderful opening of the conference and the extravaganza gala evening!
Services provided by «Media Lviv» Company:
April 23 –Hotel "Suputnyk" , Young Scientists Congress:
- Wireless tour guide system ( 1 transmitter with 5 receivers ) for translation
- Digital Video HD Camerafor recording
April 23 –Hotel "Dnister", trainings and master classes:
- 2 Projectors 720p
- Digital Video HD Camerafor recording
April 24-25 –"Arena Lviv", Mediacenter:
- Infrared simultaneous interpretation systems from English to 450 people
- 2 portable table cabins for translator
April 24-25 –"Arena Lviv", Press centre:
- Infrared simultaneous interpretation systems from English to 200 people
- 2 portable table cabins for translator
- 1 multimedia projector 5000Lm (direct projection)
- 1 projection screens 3х4 meters
- 1 sound systems with a total output of 500 W
- 3 Wireless Microphones
- 1 laptop with clicker for presentation
April 24-25 –"Arena Lviv", the fourth floor:
- 1 HD multimedia projector 3000Lm
- 1 projection screens 3х2 meters
- 1 sound systems with a total output of 500 W
- 3 Wireless Microphones
- 1 laptop with clicker for presentation
April 24-25 –"Arena Lviv", Restaurant:
- 2 Plasma Display 42-inch with stand
- 1 portablesound systems with a total output of 150 W
- 1 Wireless Microphone
April 24-25 –"Arena Lviv", second press centre:
- 1 sound systems with a total output of 500 W
- 2 Wireless Microphones
- 1 projection screens 3х4 meters