III Media Forum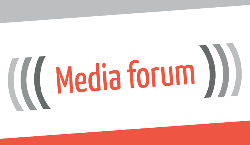 Lviv's multipurpose stadium Arena Lviv played host to the third annual Media Forum from May 28-30. More than 600 journalists, bloggers, analysts, media managers, and students gathered together to discuss the event's main theme: "Media in the Turbulent Times of Change". The event emphasized the role of the media in the crisis events in Ukraine and around the world and drew 54 featured speakers from 10 different countries.
During each of the event's jam-packed days, forum participants took part in discussions, participated in several of the 19 separate workshops available, or just shared their views on issues of vital importance.
At each Media Forum a special award is presented; this year the Oleksandr Kryvenko Award for "Progress in Journalism" was given to Levko Stek – Radio Liberty's military correspondent. This year's keynote speech on "The Liberty of a Journalist" was given by Olena Stiazhkina, a Professor of Donbass University that has been forced to relocate to Vinnytsia.
Link to the source: lvivtoday.com.ua
Services provided by «Media Lviv» Company:
April 28-29 - Arena Lviv, Media Center:
simultaneous interpretation system to 600 people

2 portable table cabins for translator (into three languages Ukrainian-Polish-English)

1 projection screen 3х4 meters

1 multimedia projector 5000 Lm

1 sound systems with a total output of 3 kW

6 Wireless Microphones

2 desktop conference microphones for meeting speech

2 laptops

simultaneous translation services during the event
April 28-29 - Arena Lviv, Restaurant:
sound systems with a total output of 500 W

1 Wireless Microphone
May 30 - UCU, room 305:
40-Person Portable Translation/Tourguide Professional System

translation services
May 30 - UCU, room 210:
40-Person Portable Translation/Tourguide Professional System

translation services
May 30 - UCU, room 405:
simultaneous interpretation system to 70 people

1 portable sound systems with a total output of 150 W

1 Wireless Microphone

1 wireless microphone headset for the speaker

translation services
May 30 - UCU, basement:
simultaneous interpretation system to 150 people

1 sound systems with a total output of 1 kW

2 Wireless Microphones

1 wireless microphone headset for the speaker

projection screen 250х250 cm.

1 HD multimedia projector 3000 Lm

laptops with presenter for presentations

translation services